Selecting the Rhode Island Corporation or LLC Name
When you begin selecting a name for your corporation filed under Rhoda Island law, you may wish to remember that the name will be unique and will identify you as a separate entity transacting business in the state. The name of a corporation must end with "Incorporated," "Corporation," "Corp" or "Inc.". The words "Limited Liability Company" or "LLC" must follow the name you choose for a limited liability company.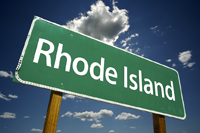 Since the name you choose for your Rhode Island based business will be identifying your corporation or LLC as a unique entity, the name will not be accepted by the state if it is likely to mislead the public or if it too closely resembles the name of another corporation or LLC formed in Rhode Island.
State guidelines require that you do not use any type of punctuation in your name selection such as dashes, periods or commas, underscores or asterisks. It may be to your advantage to try to name your corporation or LLC so that it identifies with the goods or services your business provides, but this is not required to form your company.
Selecting a Board of Directors
A corporation formed under the laws of Rhode Island can have several members as director but is only required to have one. Since the board is responsible for managing the business, it is suggested that the board be comprised of individuals that are officers or shareholders who have some type of daily involvement or interaction with the corporation. There is no minimum age for a director in Rhode Island.
Rhode Island Taxes
Corporations based in Rhoda Island are expected to file the Corporate Tax Return, Form RI-1120C and RI-1120S annually, whether a "C" or "S" corporation. The amount of tax is dependent on a number of factors and there is no minimum tax but a minimum Franchise Tax of $250.00 is due annually.
A Rhode Island LLC is required to file as either a corporation or a partnership dependent on the election made on the SS-4. Rhode Island maintains an individual income tax so employers are expected to withhold state income tax. Rhode Island maintains a general sales and use tax of 7%.
Registered Agent
The registered agent must have a physical street address within Rhode Island state. PO boxes are not acceptable, within Rhode Island.
Rhode Island Testimonials
"I would like to thank Speedy Incorporate for the help and advice provided to me during the recent incorporation of my company. The whole process was very simple and completely trouble-free." -Che B., Providence , Rhode Island

"My business partner agrees that of all the websites that provide this servie that we looked at we thought yours was the best of the bunch. We look forward to doing business with you again. " -Leroy R., Providence , Rhode Island
Resources for Rhode Island Business Owners
Tax information for businesses from the Rhode Island Department of Revenue
Rhode Island Secretary of State website