Selecting the Pennsylvania Corporation or LLC Name
When you begin the selection process to choose a name for your Pennsylvania corporation, it should be remembered that the name will be unique and will identify you as a separate entity transacting business in the state. The name of a corporation must end with "Incorporated," "Corporation," "Corp" or "Inc.". When you are developing a name for a limited liability company it must end with "Limited Liability Company" or "LLC".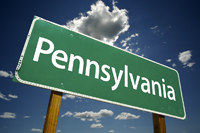 Since the name you choose for your business will be identifying your corporation or LLC as a unique entity to Pennsylvania consumers, the name will not be accepted if it is likely to mislead the public or if it too closely resembles the name of another corporation or LLC formed in Pennsylvania.
Do not use any type of punctuation such as dashes, underscores, brackets, periods or commas in name selection. While not required, it may be helpful to choose a name that will identify with the goods or services your business provides.
Selecting a Board of Directors
A corporation can have several members as director but is only required to have one. Since the board is responsible for managing the corporation, it is suggested that the board be comprised of people that are officers or shareholders who have some type of day to day involvement with the corporation. The minimum age requirement for a director in Pennsylvania is 18.
Pennsylvania Taxes
Corporations are expected to file the Corporate Tax Report, Form RCT-101 annually, whether a "C" or "S" corporation. The amount of tax is dependent on a number of factors and there is no minimum tax.
A Pennsylvania based LLC is required to file as either a corporation or a partnership dependent on the election made on the SS-4. Pennsylvania maintains an individual income tax so employers are expected to withhold state income tax. Pennsylvania maintains a general sales and use tax of 6%.
Registered Agent
The registered agent must have a physical street address within Pennsylvania state. PO boxes are not acceptable, within Pennsylvania.
Pennsylvania Testimonials
"This is a really great site! It was easy to find and purchase the kit I needed. Thanks for helping us "slow" new business owners get what we need when we need it. " - Laura V., Erie , Pennsylvania

"It is hard to find quality businesses anymore! We greatly appreciate the quality of your work and will eagerly We upgraded to the deluxe package and were very happy with the fast delivery." -Jennifer W., Philadelphia, Pennsylvania

"I really like your selection, information and prices. When I needed help your contact form really did the job, I've never gotten such a fast response before. I seriously cannot think of anything to improve. " - Brian H., Pittsburgh, Pennsylvania
Resources for Pennsylvania Business Owners
Tax information for businesses from the Pennsylvania Department of Revenue
Pennsylvania Secretary of State website