QuickBooks maintains more than 80% retail market share and over 2 million users, is the leader in accounting software for small businesses.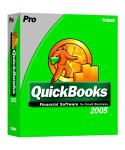 QuickBooks brings complete financial management tools to small business owners who do not have the background to understand accounting jargon or debit/credit accounting.
In addition, QuickBooks Pro is more than just accounting software as it offers a comprehensive business management solution.
QuickBooks Pro provides small businesses a wide variety of integrated business solutions for their business including:
Easy Accounting, Payroll and Direct Deposit Service
Online Banking and Bill Payment
Integration with Microsoft Word and Excel
Client Data Review Center
Bank Reconcilation
QuickBooks.com Website
Step by Step Coaching for New Users
QuickBooks Support Network
QuickBooks Learning Center
One-click Access to Ordering QuickBooks Supplies Online
One-click Access to QuickBooks Professional Advisors
One-click QuickBooks Updates Online
Quicken & Quicken Home and Business Conversion
Desktop OS

Windows XP
Windows Vista
Windows Longhorn

Server OS

Windows XP
Windows Vista
Windows 2003
Windows 2008
Novell Netware 4.x
If you need additional help with the Quickbooks Accounting Software after you have purchased and installed it, you can check out the following websites to get help:
QuickBooks Help – QBalance.com – Central Source for QuickBooks Help and QuickBooks Training. Site offers tips plus a business knowledgebase with articles and resources for small business management.