Peachtree is a module based solution that is complete with all the features you need to automate your accounting processes and manage the finances of your small business.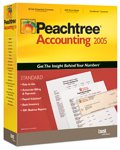 The software offers more than a dozen integrated modules that are tailored to work the way you do. The Peachtree program aims to increase productivity by allowing you to manage your business and business records in the most cost and time efficient manner possible.
Even more important, the Peachtree Accounting 2009 software offers you the flexibility and ease-of-use that successful and expanding small businesses require.
Several of the superior analysis tools, such as the Financial Snapshot, give you quick and easy access to accurate financial information for your business, allowing you to make sound business decisions both quickly and effectively.
If you look at the modules delivered with Peachtree Accounting 2009 you will see why it is the most mature and advanced accounting solution selling for under $10,000 on the market today.
Peachtree Accounting Software provides small businesses with an impressive selection of accounting solutions for their business including:
Simple Entry Level Automated Accounting for Small Businesses
Bill Paying and Check Writing
Invoicing and Bank Reconciliation Features
Track and Receive Payments
Basic Inventory Computation and Payroll Functions
Real Time Error Alerts
Easy Integration With Microsoft Word
35+ Reports to Track, Forecast, and Budget Your Finances
Peachtree Today for an Instant Overview of Business Financials
Free Online User Support Community
One-click Access to Ordering Peachtree Supplies Online
Easy New Company Setup Wizard
20+ Demos, Guided Tour, and Multiple Help Options
Multi Year Reporting
Over 100 Fully Customizable Report Features
Free Access to Peachtree Knowledge Center
Desktop OS
Server OS

Windows XP
Windows Vista
Windows 2000
Windows 2003
Windows 2008
If you need additional help with the Peachtree Accounting Software after you have purchased it, you can check out the following websites to get some help:
PeachtreeUsers.com – The online community of Peachtree Software users and experienced experts. Free forums, add-ons for the software, and other featured resources.