Speedy Incorporation has partnered with Small Business Technology Magazine, a quarterly publication that offers ideas and advice from experts and researchers in small business technology to offer you a free trial issue of this useful resource.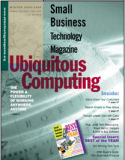 The magazine offers solid advice about how technology can be better utilized by small businesses to improve their operations and marketing efforts written in easy to understand language that even non-technical new business owners can understand.
Through the partnership we have created with them, you can get a free sample issue of the magazine and see all that they have to offer. If you like it, you can subscribe to help your business grow.
In each issue you'll find practical and useable information about helping your business succeed and grow including such topics as:
Customer relationship management
Search engine marketing and optimization for business websites
Preventative technology maintenance
Promoting your business with the Internet
A question and answer feature with powerful business leaders
Outsourcing IT issues and needs
Disaster recovery plans and issues
Buyer's Guides and product spotlights
Integrating IP telephony into your business
Technology tools for business owners on the go
And many more topics each quarter
Print Subscription
Get each new issue
Free home or office delivery
Unlimited access to online database
Unlimited access to back issues
Special subscriber offers

Digital Subscription
Get each new issue
No delivery needed
No access to online database
No access to back issues
Special subscriber offers
Fore more information or to sign up for your free copy per our special relationship with them, visit their site for more information:
Small Business Technology Magazine – Small Business Technology Magazine is a non-profit publication aimed at helping the over 24 million small business owners and managers in the United States better understand how information technology can improve how their businesses operate, grow, thrive and succeed. Published by the Small Business Technology Institute, a 501(c)(3) non-profit, the magazine, like the organization, helps to foster the adoption of information technologies among small businesses.